Grade 6 Distinction For Matthew In Guitar Exam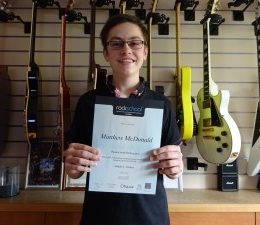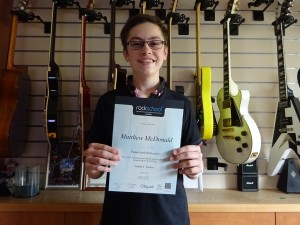 Guitar Student Matthew McDonald recently took his Grade 6 Rockschool guitar exam and passed with Distinction. I am sure Matthew will have a great music career when he leaves school. He has even made a couple of guest appearances with up and coming local band Britannia Beat. So he is also starting to get some live gigging experience too. Keep a look out for Britannia Beat and if your lucky you may see Matthew in action.
One of the best parts of the job as a guitar teacher is seeing the smiles on the faces of students when they pass exams and to pass a Grade 6 Rockschool guitar exam with distinction certainly takes some effort. I am looking forward to working with Matthew towards his Grade 7 and helping him progress in his career as a musician. He has come a very long way since his Rockschool Debut guitar exam in just a few years. Well done Matthew a star in the making!