Exam Pass for 74 Year Old Margaret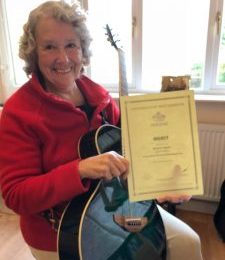 Exam Pass for 74 Year Old Margaret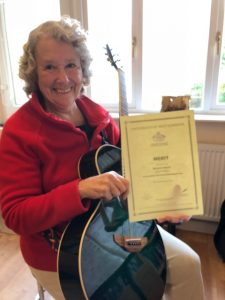 Fantastic exam pass for  Margaret my oldest student at 74 years old. Margaret contacted me around 18 months ago. After been disappointed in her progress with her guitar playing, with another guitar tutor. On her first lesson I took a look at what she had been learning. And we decided on what route we were going to take to improve Margaret's playing. We started with some simple music reading and note values. And in no time at all she was playing simple melodies that she enjoyed over a couple of strings. We then gradually worked our way through each string of the guitar. Learning the note names until eventually we had covered all six strings.
Exam Time
Once we she had enough knowledge of the notes and could play some chords together in time along to a C.D. I Margaret if she would be interested in doing a acoustic guitar performance exam through Registry Of Guitar Tutors although she was nervous she agreed to do the exam so she could have some record of achievement for her efforts. Although Margaret was very nervous when doing the exam she passed with Merit just going to show it is never to late to learn a new skill or to start learning an instrument.
The Future
Margaret said she is really pleased with passing her exam. Her tip for other people learning guitar no matter what age is to keep practising and not to give up. We have already started to look at the next grade as Margaret is now enjoying her playing more than ever. Margaret comes for lessons every other week and then goes and practises what pieces I give her to learn. I am looking forward to working with Margaret on learning new material for her next exam.