Acoustic Guitar Exams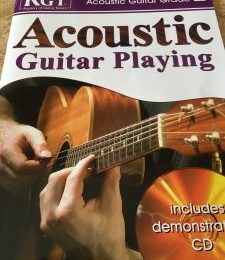 Acoustic Guitar Exams
Acoustic Guitar Exams are now available. You can either do the full grade where you go to an exam centre, or a performance exam that can be a video upload to RGT. 
There has been over the last year or so more students are wanting to take up acoustic guitar. I think this could be down to a certain person called Ed Sheeran. I have always taught acoustic and electric guitar, but all the students doing exams have done so through Rockschool. However seeing as the acoustic guitar has become popular. I now also cater for acoustic guitar exams through Registry of Guitar Tutors, and like Rockschool have a 100% pass rate with my students.
The Acoustic Guitar Performance Exam
The acoustic guitar performance exam is ideal for anyone who may want to do exams, but feels nervous about sitting in an exam situation and playing guitar. This is also a great way for those busy people who don't now their availability for exams due to working shifts, or other commitments.  I can now film you here in my studio and upload your performance. The beauty of this method is if you make a mistake, you can do it again as many times as you like. If you go to an exam centre it will need to done in one go. Alternatively you can film yourself at home and upload your performance to the Registry of Guitar Tutors website. If you are more comfortable with this.
If you are well prepared for the exam. A filmed acoustic guitar performance exam can be done in one lesson. It can then be uploaded to RGT.  The results are usually back within a couple of weeks. Electric guitar exams through Rockschool still have to be sat with an examiner in an examination centre.
Taking exams on guitar not only gives you recognised qualifications, but charts your own progress as you move through the grades. It gives you a goal to achieve and this I believe helps to keep focus on playing guitar.