Acoustic Guitar Exams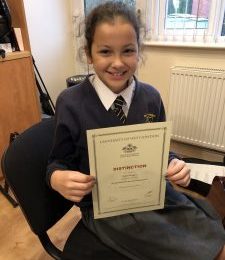 Acoustic Guitar Exams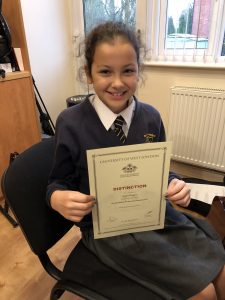 Exams in acoustic guitar are now available through video upload with The Registry Of Guitar Tutors. This takes the stress out of the exam room situation which can be very nerve racking for many people. Pictured here is Nadia Rogers aged 10 who scored 85% on her Grade one exam passing with Distinction.
Nadia also passed he Initial grade earlier this year with distinction. She has been playing for around 13 months now and practises 4 to 5 times a week. Nadia practises for 20 minutes, but sometimes will do an hour. She really enjoys playing guitar and said the best part is being able to play an instrument and being good at it. She sometimes get frustrated at difficult chords. However she tells me that is when she practises continually and will not be beaten.
It is fantastic as tutor to see someone who is as determined as Nadia and her results are showing that the more you put into playing the guitar the more you will get out of it. Nadia plans to become a guitar tutor when she is older so she can earn some extra money at University.
Video Exams
Video exams for acoustic guitar are very popular. This gives me as a tutor time to get the best result from the student during a lesson. Parents of children can sit in and the video is taken in my home studio in Wolverhampton. I do not put the student under any pressure and if they make a mistake they can do it again until we are happy with the video. The Video is then uploaded to The Registry of Guitar Tutors website for marking. We then have to wait a couple of weeks we get the results back and a nice certificate. Some students start on acoustic style grades then move over to electric guitar grades. The qualification level is the same regardless of which method you choose.